Welcome to Department of Information Technology
---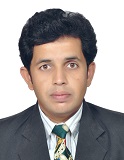 Information Technology is an engineering division, which concentrates on the study of utilizing computers and telecommunications in order to control, gather, store and circulate information. Both software and hardware sectors are parts of Information Technology.
The I.T. curriculum shares fundamental courses of computer science and engineering syllabi and mainly focuses on new paradigms of the IT industry i.e. Software management, software engineering, information security, testing and high-end technologies. The course is designed to provide skill set for the role of a leader in the IT industries.
Several Industries are associated with Information Technology department with well qualified and experienced faculty and also talented and eminent personalities from corporate are working as the part of department. The facility of PARAM Shavak super computer is also available for researchers.
Department has well equipped and spacious laboratories and to fulfill the demand of competitive world department is having a special lab for industry internship to work on live projects from industry. After graduation students will have the skills needed to work in the fast-changing and very exciting world of Information Technology and these skills will ensure that students will be at the forefront of this vibrant and rapidly developing sector.
Department is constantly maintaining outstanding result through university merit rank and encouraging the students to participate in variety of co-curricular and extracurricular activities such as paper presentation, workshop, project competition, Inter university competition like AVISHKAR, HACKTHON.
Dr. R. R. Keole