The College of Engineering and Technology was established in the year 2002-2003 and is affiliated to Sant Gadgebaba Amravati University, Amravati. The college is approved by AICTE, DTE and Maharashtra Government. Objective: To qualify the students for university and other examinations for making them eligible for degrees conferred by university…Read More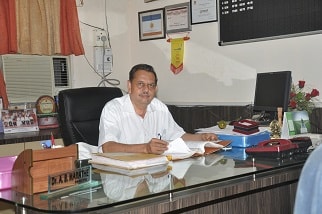 Dr. A. B. Marathe
Shree Hanuman Vyayam Prasarak Mandal has the glorious heritage of 100 years. It has become iconic symbol of discipline, dedication and result orientation. We, the College of Engineering and Technology, Amravati are proud to be part of this glory. Technical Education, in particular, has become highly demanding in terms of expectations of stake holders. The budding professionals need to acquire the set of skills…Read More
News
Congratulations to Mr. Kartik Vyas (CSE 3rd year Student) for securing 1st Position in Startup Conclave 2019 in National Level Tech Fest "Vidyotan 2K19" held at Sipna College of Engineering & Technology
Congratulations to Mr. Pranav Chendke, Miss. Bhakti Shah, Mr. Amit Lohiya and Mr. Saurabh Shroti for successful completion of Global certification "ComTIA IT Fundamentals plus"
Congratulations to Mr. Kartik Vyas , Mr. Ankit Lohe & Mr. Saurabh Pathak (CSE 3rd year Students) for securing 2nd Position in Project Competition in National Level Tech Fest "Prajwalan 2K19" held at Government College of Engineering, Amravati.
Congratulations to "Mr. Ankit Lohe" CSE 3rd year student for winning Bronze Medal in All India Inter University Tournament(Water Polo) held at Bangalore.
Congratulations to "Mr. Manav Gulhane" CSE 1st year student for representing SGBAU in West Zone Inter-University Tournament held at Gujrat.
Congratulations to Team " VAYU " for achieving 5th rank at National level & 1st rank at State level in Rally Car Design Challenge (RCDC) event.
"Techno Wings 2017" College Annual Magazine is awarded as 1st Rank in University Annual Magazine Competition.
HVPM's COET is awarded with Green and Clean Campus Award by AICTE
Congratulations to Prof. S. V. Khond for being awarded Colour Coat at Avishkar 2019, SGBAU Project Competition
Event
"Degree Distribution Ceremony" conducted at HVPM COET on 19 Jan 2019
Inauguration of "Navapravartan 2019" & "Hackathon 2K19" by the hands of Padma Shri Dr. Deepak B. Phatak on 16 Feb 2019.
Annual Social Gathering "TARANG 2K19" concluded on grand note
Few of the Brand on Campus