The College of Engineering and Technology was established in the year 2002-2003 and is affiliated to Sant Gadgebaba Amravati University, Amravati. The college is approved by AICTE, DTE and Maharashtra Government. Objective: To qualify the students for university and other examinations for making them eligible for degrees conferred by university…Read More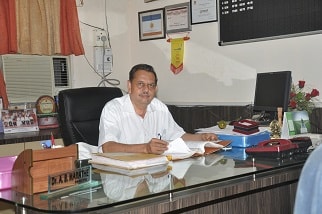 Dr. A. B. Marathe
Shree Hanuman Vyayam Prasarak Mandal has the glorious heritage of 100 years. It has become iconic symbol of discipline, dedication and result orientation. We, the College of Engineering and Technology, Amravati are proud to be part of this glory. Technical Education, in particular, has become highly demanding in terms of expectations of stake holders. The budding professionals need to acquire the set of skills…Read More
News
Congratulations to Mr. Nikhil Pande (2nd Year CSE) for being awarded as Colour Coat Holder of S. G. B. A.U Amravati in Badminton (Men's) for consecutive second time.
Result of First Semester B.E Group A and Group B is declared contact Mr. Wagmare (Student Section)
Congratulations to Prof. R. G. Anantwar for being selected as Coach for women's Badminton team of SGBAU, Amravati.
HVPM's COET is awarded with Green and Clean Campus Award by AICTE
Group of Students participated in 1st AICTE – ECI Chhatra Vishwakarma Award -2017
One Day Workshop on Flipped Learning by Dr. Vasudha Kamat on 25th March 2017
Congratulation to Prof. Prathamesh Phadake for being awarded Colour Coat at Avishkar 2018, SGBAU Project Competition
Congratulation to Mr.Akash Shere & His Team for selection in Smart India Hackaton 2017
Congratulations Dr. M.E. Shelke for being awarded as "Best Engineering Teacher" for Maharashtra Goa Circle by ISTE
MOU Signed with Axiom Softech Pvt. Ltd.
Placement Brochure Inaugurated by the Hands of Mr. Mandar Kulkarni (Microsoft), Mr. Girish Dandige(TCS), Mr. Narayan Ramanathan (mncebiz) and C. Kajwadkar(CCIL)
Event
"Visioning- TechFest" : Eminent Personalities from CCIL,TCS,ACCENTURE & ISRO are visiting to enlighten the event from 21st to 23rd July 2017
Inauguration of Super Computer "PARAM SHAVAK", IOT Lab & 3-D Printer on 21st July 2017
Few of the Brand on Campus